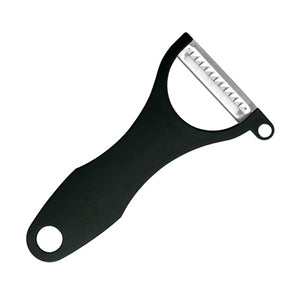 Swiss Classic Julienne Peeler
Perfect julienne strips every time. This Swiss-made, all stainless steel peeler featuring a serrated blade has an integrated side cutter for removing potato eyes or blemishes, or you can utilize your creative skills to cut decorative grooves into fruits and vegetables.
This isn't just another peeler. Proprietary technology from Switzerland has given our Swiss Classic peelers a few new edges. The stainless steel blade is scalpel sharp-which means less effort to peel and a thinner peel with every stroke. Use the julienne blade to create thin julienne sticks on carrots, zucchini, cucumbers and more. A side cutter on each peeler removes eyes and blemishes from produce or can cut grooves in fruits and vegetables. Suitable for left and right handed use, dishwasher safe, Made in Switzerland.